DListView
Description
A data view with rows and columns.
Parent
Derives methods, etc not listed on this page from DPanel.
Events
DListView:
OnRowSelected
(
number
rowIndex,
Panel
row )
Called internally by DListView:OnClickLine when a line is selected. This is the function you should override to define the behavior when a line is selected.
Methods
Example
Creates a DListView and populates it with two columns and three items, only one of which can be selected at a time.
Selecting a row will print a console message containing the text of the row and its index.
Output: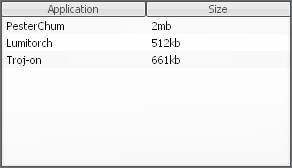 Selected Troj
-
on ( 661kb ) at index 3 Selected Lumitorch ( 512kb ) at index 2